How Daniel's Dragon Fly Signs began:
My sister, Peggy, had clipped a dragon fly pin on a beautiful blanket she made for Daniel which was buried with him. There has been many different occasions where I have had encounters with dragon flies. Some of the first few encounters have been ones that have flown directly towards me, as if to catch my attention, another towards my daughter and another which flew in front of my car on a red light and in the middle of a very busy street, just after I had asked Daniel the night before on his website's candle for him to keep sending me dragon flies because I know they had come from him. I also saw some dragon flies in the back yard of a house we went to see for sale. My sister, Peggy happened to be with me during my first encounter of the dragon flies, (the one that flew towards my daughter). My sister and I looked at each other and she said, "You see, Daniel is with us". As I told my sister about my second encounter which is the one that flew towards me while I was standing in a big line to ride the go-carts in Disney World, I had told her how I had to put my hand on my face to block the dragon fly from bumping into my face! It is then when my sister had mentioned that during the funeral as she placed the beautiful blanket with the dragon fly clip on Daniel, she had told him to always stay close to us and to help guide us. Another dragon fly incident hapend after I had decided to put on this springtime plastic table cloth on my table which I had always put on for the last few years (during the spring) Daniel passed away on October, so I haven't seen this table cloth since before he was born. The night just before that day, I had added Daniel's dragon fly picture with his face on it along with the caption dedicated to him. As I started to put on the table cloth, I noticed for the first time ever, that each of springtime flowers imprinted on the table cloth had dragon flies next to them! I just can't believe I have never noticed them before! Well, I took it as another sign! Twice so far on different occasions I have also seen dragon flies painted on different items inside two different grocery stores that I had visited lately. The both times I saw these dragon flies, I had been thinking of Daniel and his dragon fly signs that very same day. Other Dragon flies signs have just practically shown up on many different occasions in all shapes and forms and I believe they are like a reminder that my Daniel is really still here with me. It is truly amazing!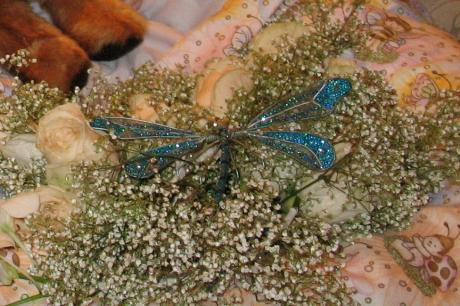 Daniel's dragon fly pin and blanket Aunt Peggy made for him.
**Here are even more of some of the most amazing signs I have gotten, the latest ones are at the bottom, I think they get more and more amazing each time! enjoy reading!!**
April 19, 2008

(a dragonfly shirt at the park when I had lost hope of finding a dragonfly)




I really had been feeling a little down and I was hoping to see a dragonfly if I would go to the park. So, I went with my 2 year old for a walk on her stroller at the park. As soon as I got to the park I started to search everywhere for one, but I had to give up because there wasn't any dragonflies in sight. Shortly after I started to head towards the exit of the park, I noticed a lady who was jogging behind me. I happened to noticed that she was wearing a plain white elbow-length shirt. I moved to one side of the park's side walk path and for some reason decided to also stop to let her go by. As soon as she jogged passed me I saw this huge beautiful dragonfly embroiled on the back of her shirt! It defiantly made my day!
Tuesday, July 29, 2008 (an awesome sign after I asked for one! )
I am convinced that these dragonflies are truly signs instead of coincidences, especially after today's conversation at work and then afterwords having a dragonfly sign! I was driving home from work thinking about the conversation I had earlier with one of my co-workers as I told her all about my dragonfly signs and she told me that they were coincidences. So, as I was driving home, I said out loud, "It could very well be coincidences, so, if it is Daniel sending them, then let there be another dragonfly sign today, an obvious one, directed to me". Sure enough, within a few minutes while I was on the red light about to turn away from the same road, this dragonfly flew straight to my car and over it, and I could have sworn that it even tapped the car's window only I couldn't hear it since I had my radio on. ! It is truly amazing!
Friday, August 15, 2008 (I needed this one!)
Today around 10:00 my supervisor told me that they needed me to go work at the main office. So I went and during lunch time I ate lunch at their new food court and bought a sub from Subway. I sat near their big window and stared outside and noticed a lot of dragonflies flying around. Suddenly I heard in the background in a low volume this same song playing on this page which has been a song that for some reason reminds me of dragonflies flying around and has been the song on this page since I first created it which was a few months ago. Still, I did not think much of it since dragonflies happen to be almost everywhere I go these days and even over the roof of my house. I had the whole place practically to myself and all of the sudden a guy decides to sit directly in front of me and blocked most of my view. I continued to eat my sandwich as I looked outside around the guy and I listened to this same song. All of the sudden the guy makes a phone call on his cell phone and his first words are, "Hello, is this Daniel?" I was so surprised that I opened my eyes wide open and also noticed that the guy was looking at me at the same time!
Later on while working at the 4th floor, I looked outside at a window across me and looked out for more dragonflies, but thought that I was too high up and thought that it would be interesting and perhaps impossible to see a dragonfly fly so high. Time quickly went by and I suddenly looked outside again and saw two dragonflies pop in front of the window about ¾ way up and back down again, I thought NO WAY! I kept looking out to see if they would pass by again and sure enough they did – the two dragonflies flew across the middle of the window this time. They were so BIG and beautiful!
What so weird and amazing about all of this is that just last night I watched, "Dragonfly" the movie that my co-worker told me about after telling her about my dragonfly signs and she mentioned that they were coincidences.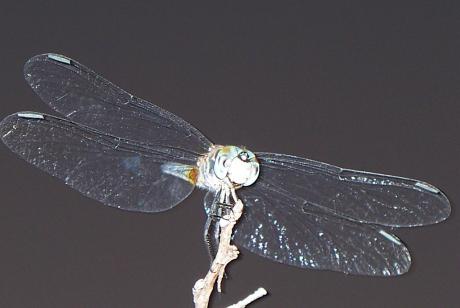 October 03, 2008. A dragonfly in our backyard that I was able to photograph the day before Daniel's Angel Day. Amazingly beautiful! It even look like it had Daniel's smile!
Wednesday, November 5, 2008 (another one sent to me after me asking Daniel for one)
During my lunch hour today I decided to eat at my desk and go outside for the remaining ½ hour or so. I was enjoying the weather outside and the beautiful blue sky. I took a good look at the tree where I use to see the baby dragonflies, but did not see any.
After some time had passed, I got a little desperate and told Daniel that it would be so nice for him to send me one of his dragonflies. About two minutes later A HUMONGOUS dragonfly flew right next to me and landed very near by me in some small tree bushes. I immediately went over to see it and spotted it right away, so I kneeled down to stare at it and I thanked Daniel.
It was so huge and beautiful! I had never seen one like it. It had this really neat Dark-Golden color. It almost looked like it was mechanical or like a toy or something, because it was all in that one solid color even his huge eyes where the same color, it was just incredible! It stayed there for a little while and then it flew off passing right next to me. I can't even describe my feelings as I looked at it. It was such a magical amazing feeling. I called my sister and told her about this, as she loves to hear about it. I thanked her one more time for putting that dragonfly pin on the blanket she made for him and for making me aware of that first dragonfly sign that happened to be while she was with me at the zoo. I think that I would not have seen these signs if it wasn't for her intuition.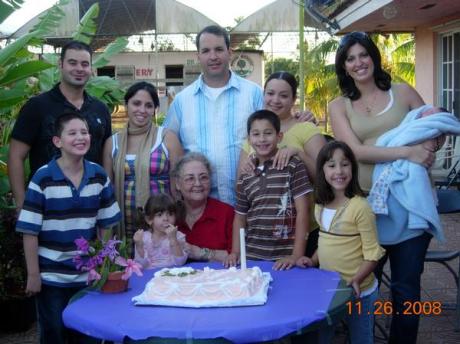 November 26, 2008 - Another Amazing sign during a very special moment during a picture with my mom and her grandchildren...
Here is a picture of my mother, Daniel's grandmother, with all (minus two) of her grandchildren and great-grandchildren celebrating her 80th birthday on Thanksgiving Day. It was a perfect day for that event since the whole family was at Aunt Peggy's house that day. Even though Daniel could not be physically present he sent us a special dragonfly during that special grandchildren moment, it was so amazing!!! So many of us saw that dragonfly fly by while the grand kids were around grandma for all those pictures that were taken during that special moment.
Wednesday, January 28, 2009 (lost phone, my wish and then a sign)
Today I thought I had left my cell phone in my car and the only way to find out was when I would get into my car at the end of the day. So when I was able to finally call my cell phone, I kept calling it to see if I would hear it. After the 3rd try a very nice lady answered and she told me she had my cell phone, it had apparently fallen out and I did not realize it. We agreed that I would go to her house since she happened to live close by. She has a beautiful house and she invited me in. Soon after she asked me how far along I was and if I had any other kids, (which I then had to tell her about Daniel), I then suddenly realized that the designs on her t-shirt were of Dragonflies! I thought wow, maybe it was Daniel who helped me find my cell phone!
Sunday, February 23, 2010 (SPECIAL DRAGONFLY ON HIS baby SISTER'S BAPTISM DAY!)

On your baby sister's Baptism Day... Dragonfly signs are still strong and clear!
Seeing your dragonfly inside our very own house on your baby sister's baptism day was so special and thoughtful, sweet Daniel, you are the best!! Mommy adores you!!
Daniel's perfect timing as always. After our daughter's baptism celebration at home as soon as everyone had gone home and it was night fall, my husband was in and out while storing the tables and chairs into the house, when suddenly a dragonfly sneaked through the front door of the house and came inside. My oldest and I were starring at it as it fluttered by us. Then as I was thinking that it will die if it stayed in the house, it started to flutter around our backyard's french doors and I asked my husband to open the door to see if it would leave, and so we said, goodbye, as it left. I thanked Daniel so much! He knew just how much I had been thinking of him during such a special day. I hate that we never got to baptize Daniel and this was on my mind all day long.
Sunday, August 1, 2010 ( Feeling of his presence and then a dragonfly)
Today is Sunday and my husband and I have been cleaning out the garage all day long and still are not yet done. Daniel has been on my mind so much these past few days - more than usual, anyways. While my husband was uninstalling the infant car seat that Kristen will no longer be using. I said out loud, I can't believe she'll no longer be using the infant seat cause she's outgrown it", then I thought, I wish I would've said that about Daniel two years ago. Suddenly I got this weird feeling, that I can't describe and I just knew he was with me at that very moment, I felt his presence! I said out loud, "I know your with me" and As soon as I go outside to shake off this weird feeling, I looked at my dragon fly cling-on in my kitchen's window, and suddenly a dragonfly flew right past me and into the same exact window and almost smashed against it! Then it flew over my roof. Amazing! It was so wonderful to see that! It's really just incredible, especially because it happened right after I was having this feeling that he was with me! WOW, it's great! I just wish I could actually see him!!